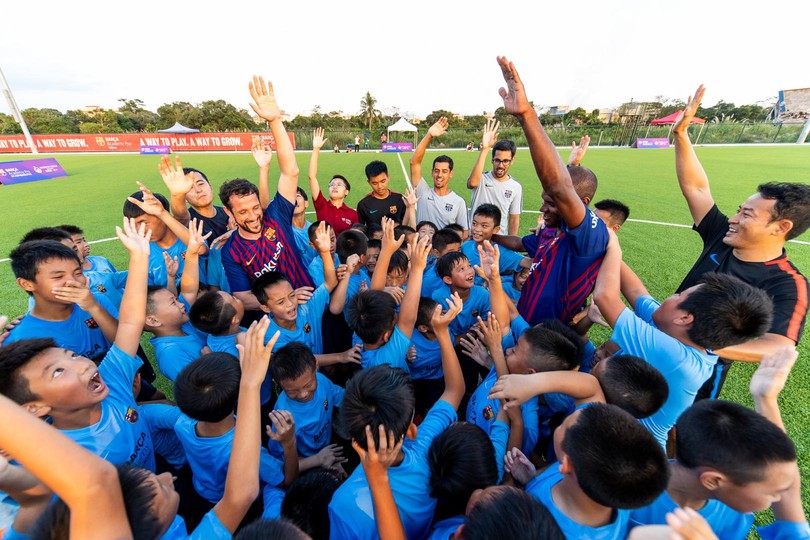 The Barça Academy PRO Haikou takes center stage at the grand opening of the Barça Experience Haikou
The new name is part of the club's brand project, in which a more international name replaces the FCB acronym
The Barça Experience in Haikou is now a reality after the inauguration ceremony held at the Mission Hills complex, and fans visiting the Chinese Island of Hainan, one of Asian's leading tourist destinations, will now be able to learn more about FC Barcelona, thanks to a complex that includes an interactive 4,000 m2 museum and a large megastore, as well as a Barça Academy Pro with six pitches.
The opening ceremony was held at Centerville in Haikou and was attended by several club representatives, including the director and head of the digital area, Didac Lee; executive director-CEO, Òscar Grau; technical secretary, Eric Abidal; and club ambassador, Juliano Belletti; together with Tenniel Chu, vice president of the Mission Hills Group, and various local authorities and executives from the Chinese Football Federation.
A group of 12 players from the Barça Academy PRO Haikou starred in the center's opening ceremony, bringing in a giant jersey signed by the players currently training at FC Barcelona's academy there. Following the ceremony and visit to the Museum, the Barça delegation visited the Barça Academy Pro, which opened in 2017. Once on the pitch, the Barça players were surprised by the children from the academy, and Éric Abidal gave them a talk about how they should enjoy playing football and make the most of the opportunity to learn to play football the Barça way and learn from the finest coaches they could hope for.
Since 2017 more than 1,200 children have participated in the different camps and programmes organised with the same methodology as Barça schools on facilities that include six training pitches with the capacity for a thousand athletes. In this period of time, more than 5,000 young people from Haikou city have also been trained by coaches from the Barça Academy in different campaigns to promote football in local schools.
Éric Abidal and Juliano Belletti then gave a football class to the boys and girls from the academy, including a '2 versus 60' activity in which the duo took on the whole of the school! They also organised typical 'rondo' exercises and similar drills with the kids from Barça Academy Pro.